Compact Arbitrary-characteristic Digital Filter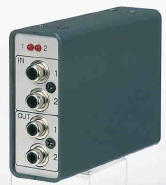 Price :
First unit :
Hardware 98,000 (yen)
Software 100,000 (yen)
(Comes with Schematic Editor "RESP" & Digital Filter Design Software "RDFD")
Second unit : 98,000 (yen) Just for a hardware
Just use your mouse to draw a frequency response on the screen.
You will get an arbitrary-characteristic filter coefficient.
Download it to Micro-box, program it into the flash-memory.
Replace your analog filters by Micro-box.
Linear-phase filters never distort it.
Features
| | |
| --- | --- |
| | Motolora DSP56311(150MHz) 24bit Fix-point DSP |
| | Internal RAM (48KW+48KW+32KW) |
| | Flash memory (512Kbyte) |
| | AD/DA : Sampling frequency 48KHz (Fixed), 2ch 24bit delta-sigma 1Vrms, RCA |
| | Rotary switch for mode change |
| | Communication with PC : RS232C (115.2Kbaud) |
| | Power : DC6C AC adapter |
| | Size : 75mmW-30mmH-100mmD |
Schematic Editor (RESP)
Name : RESP (REdec Schematic Programing)

Draw a configuration on the graphic editor by mouse to derive a real-time program

Download parameters and coefficients on the editor screen into the DSP in Micro-box.

Components for the editor
Fix FIR, Adaptive FIR, M-length sequence, Analog input/output, Adder/Subtracter/Multiplier

FIR design functions (LPF, BPF, HPF Window function method)

Download coefficients to Micro-box.

Program system functions and filter coefficients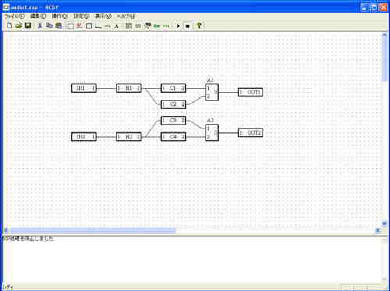 Digital Filter Design Software (RDFD)
Design

editor by mouse for an arbitrary frequency characteristic

FIR designed by Window function method

Transform an analog filter characteristic to a IIR digital filter coefficient

Use other than Micro-box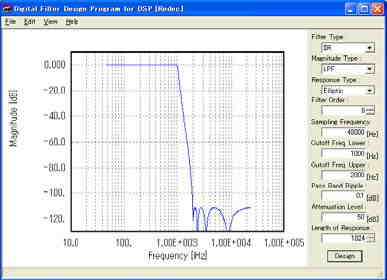 Outline